Home
> restaurant >
Restaurant
THE RESTAURANT
We offer different environments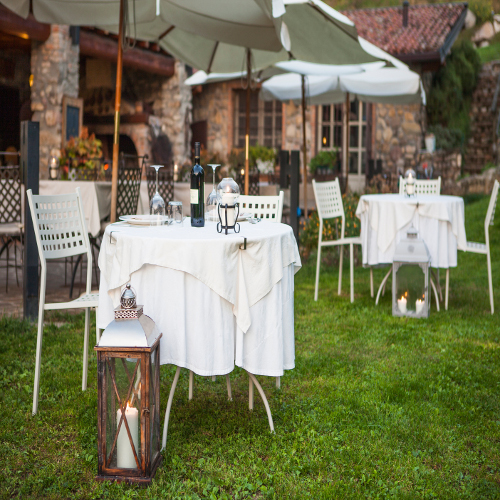 THE GARDEN
"La Tesa" farmhouse is immersed in the nature. A lovely and well-tended garden is ideal for guests who wish to relax and unwind. Here you can spend serene hours surrounded by incomparable fragrances and colours.
---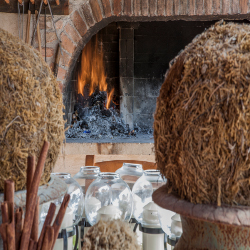 THE PORCH
Here you can find a brick barbecue, original stone walls and beamed ceilings.
Different agricultural tools have been hung at the tall walls in order to give guests the traditional farmhouse atmosphere.
---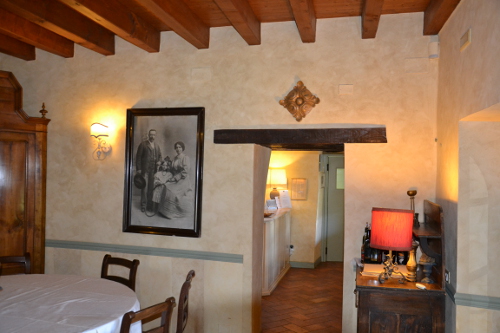 THE PORTRAITS ROOM
The room takes its name from two significant portraits on the wall. A photograph of our grandparents from the early twentieth century and an ancient coin belonging to Louis XVI which represents a map of our estate.


---

THE FIREPLACE ROOM
It is situated on the ground floor of the farmhouse and has a large window overlooking the landscaped garden. A bright and welcoming room with soft pastel shades creating a warm and hospitable atmosphere.
The professional service and attention to customers needs make "La Tesa" farmhouse one of the most suitable place for any kind of event and ceremony. We can host a maximum of 60 people.
---
PHILOSOPHY
Traditional cuisine is the mirror reflecting the history and culture of a specific area. The table is where memories are fixed and therefore, a surviving recipe can keep alive the memory of gestures and habits to do with food, of combinations of flavours, and family customs that allow us to trace a profile of an area and, at the same time, to form a link between past and present, making it possible to transmit "home cooking" to future generations.
We select high quality raw materials directly from the local farms.
The food and wine on offer is top notch, made with passion and imagination, starting with the traditional local dishes, all the way up to the best dishes of Italian tradition nationwide. The cuisine is rich in variety, tasty and always accompanied by a careful selection of prime quality raw ingredients.
We truly believe in the importance of using healthy and fresh genuine products because we want the best for our guests.

The menu is based on the seasonality of ingredients and changed at least once every 20 days. Pasta is completely handmade with organic eggs and flours. Bovine meat comes from small selected farms, while the ovine one from our breeding.
We often cook grilled specialities on a large barbecue, using only first choice firewood (oak, beech and hornbeam).
Lake and river fish take part of our gastronomical offer. Trouts, sardines, chars and whitefish are served as starters, first and second courses.
Guests can also be tempted by our desserts, biscuits, fruit jams, bread and focaccia. Completely handmade with love and passion.